---
2014 Husky Crew Banquet
and VBC Induction

Guest Speaker: Judy (Rantz) Willman
"The Boys in the Boat"
Friday, March 28th, 2014
Conibear Shellhouse
6:00 - 7:00 pm: Reception
7:00 pm: Dinner and Program
---
Come join your fellow classmates, friends, and parents at the annual VBC Banquet at Conibear Shellhouse Friday, March 28th. The program will include:
- Reception/social hour from 6 to 7 pm, including no-host beer and wine
- Dinner
- Audio/visual background presentations
- MoC's Bob Ernst and Michael Callahan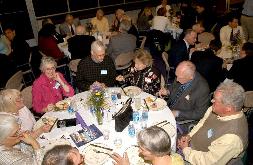 - Guest speaker Judy (Rantz) Willman, daughter of Joe Rantz and the force behind "The Boys in the Boat", the story of the 1936 Olympic Crew
- VBC induction/ceremony for all eligible men and women's team members

The cost is $40.00 per person. Attendees can help defray the costs of this event by becoming a "sponsor" at the $75.00 level, or "patron" at the $100.00 level.
For our alums and friends who cannot attend the banquet, but would still like to participate, the "sponsor" level is $35, and the "patron" level is at $60. We urge all senior members of the VBC, even if you cannot attend the Banquet, to please support this important tradition.

---
How to order tickets to the 2014 VBC Banquet:
1) Go to the Rowing Stewards/Huskycrew.org e-store here - Huskycrew.org E-store
2) Purchase your tickets using VISA/Mastercard or select the pay by check option
You can email VBC Banquet chair Al Erickson at Al.Erickson@frontier.com with any questions.
See you at teh 2014 VBC Banquet!
---

Parking: Parking is available on the night of the banquet in lot E1 (the large Montlake commuter lot). Cost at the gate (machine accepts $1 and $5 bills) is $6.00.
---
For those with previous reservations and mailing checks, here is the address:
Please make the check out to: Washington Rowing Foundation (or just WRF)
Dept. of Intercollegiate Athletics
Graves Annex
Box 354070
University of Washington
Seattle, WA 98195
attn: Rowing Banquet
Thank you for supporting the team and this important annual event!