---
2009 Head of the Charles
A very big thank you to all of the alums, friends, and parents who helped out this weekend, and to all our fans who braved the weather (and there were many of them!) to come out to cheer on the Huskies. Here is a quick note from our alum coordinator for this event, Charlie Clapp '81, Monday morning, 10/19:
There is an old saying in New England - "If you don't like the weather, just wait a minute".
Friday's nor'easter abated into a beautiful Saturday which led to another nor'easter to greet us on Sunday, our first snow of the year as the Huskies raced and today dawns into a gorgeous autumn day. Rowing is an outdoor sport and it was in spades this weekend. Great showings on the water by the Husky crews (Women finished fifth and Men third - both the second fastest (just) - collegiate eights) and an equally great showing by fans who braved some nasty weather on Sunday to cheer the crews on. Even with a tent overhead, some wooden flooring became our "Noah's Arc" to stand on as the hay being spread was not enough to stem the rain!
Given how our crews are selected on short notice (see great article in Friday's Boston Globe), the results portend for another exciting season and have helped to keep the Dawgs on an east coast map. Many thanks to everyone who came from far and near (Seattle, Ottawa, Sacramento and Cambridge!) to this festive occasion. Also to the host families that housed and fed the crews and also to Pocock who tailored the racing craft out cross country. Also to Race Director and alum Fred Schoch for his hospitality and guidance. Finally to Peter Fiore for housing the crews on ergs on Saturday - under the watchful eye of Dick's bobble head!
We are two years into this tradition and hope to start a long string of participation as all quarters look forward to this special regatta.
Hope to see you next year! I can guarantee a great time and a great showing - and some great weather at some point over the weekend!
P.S, More than a few of you asked how you help out this effort. The answer is in one of three ways:
-- Support the upcoming campaign to bolster the crew endowments
-- Feel free to make a contribution within your means to:

University of Washington
University of Washington Athletics
Attn: Husky Crew Fund HOC,
Tyee Office - Box 354070
Seattle, WA 98195-4070
| | |
| --- | --- |
| | |
| Tom, Mathis, Michelle and Ty with Peter Fiore '81 | Erg Inspiration |
---
Thanks Bob:
---
10/18: "Great 8's" Win Both Men's and Women's Champ 8's in Heavy Snow; Washington Men 3rd; Women 5th
Both Great 8's are compilations of the best rowers /scullers in the world; UW's Katelin Snyder wins as cox of the Women's Great 8
UW rowers chill out at Head of the Charles | Seattle Times Newspaper
All-Star eights are great - The Boston Globe
Head of the Charles Regatta: Supergroups rock the boat - BostonHerald.com
Northeaster wallops Mass. with a taste of winter - The Boston Globe
Next yearís absences likely to make world of difference - The Boston Globe

UW Crews Among Top Finishers At Head Of The Charles
Results here - HOC Results

Huskies | Huskies rowing has long set gold standard in Seattle | Seattle Times Newspaper

10/17: Megan Kalmoe Wins Championship 2x - Megan Kalmoe's Blog
Washington Awash With Talent - BostonGlobe.com
Michelle Darbyís in hot seat - BostonHerald.com
Crew Holds Selection For Head of the Charles Regatta
Washington Crews To Race At 45th Head Of The Charles Regatta
---
The Washington Men's and Women's V8's will once again compete in the Championship 8 events at the 2009 Head of the Charles Regatta Sunday, October 18th.
The Head of the Charles regatta has been around for 45 years, one of the first "head" (time trials run consecutively by each entered team on the same course) races in the country. Rowed in Boston on the Charles River, the regatta spans two days and attracts up to 8,000 participants and crowds that, on a sunny day, can reach upwards of 200,000+. The Championship 8 event is the highest level event at the Head of the Charles; rowed as the last two races on Sunday, it features the top varsity collegiate crews in the country as well as numerous international teams, usually rowing as clubs. This year, look for teams from the U.S., Netherlands, France, Ireland, England, Germany, the so-called "Great-Eight" - a collection of Olympic men's scullers (including all 6 Beijing 1x finalists from 6 different countries) rowing sweeps - as well as all 6 V8 finalists from the 2009 men's IRA regatta and 5 of 6 of the 2009 women's NCAA finalists. Whew!
The Washington men will be the first to start, sporting bow marker #1, an honor (and clear water) for the previous year's champion (see our coverage here of the 2008 regatta, Washington becoming the first collegiate team to win the Championship 8 event in years - 2008 Head of the Charles). The UW women finished 6th in their event in 2008, 2nd only to Yale among the collegiate teams entered.
---
Husky Crew Alumni/Friends/Parents Tent
Charlie Clapp '81 will once again head up the huskycrew alum/friends effort at the course on Sunday. Washington will have a full-sized tent and team area where all alums and friends are encouraged to join up and cheer on the Huskies. Both men's and women's teams, and coaches, will be at the tent before their races as well. The tent will be located (marked on map below with bolded circle) at the Finish Area Launch Site (FALS) on Soldiers Field Road on the Boston side of the Charles River, between Eliot Bridge and Northeasternís Henderson Boathouse.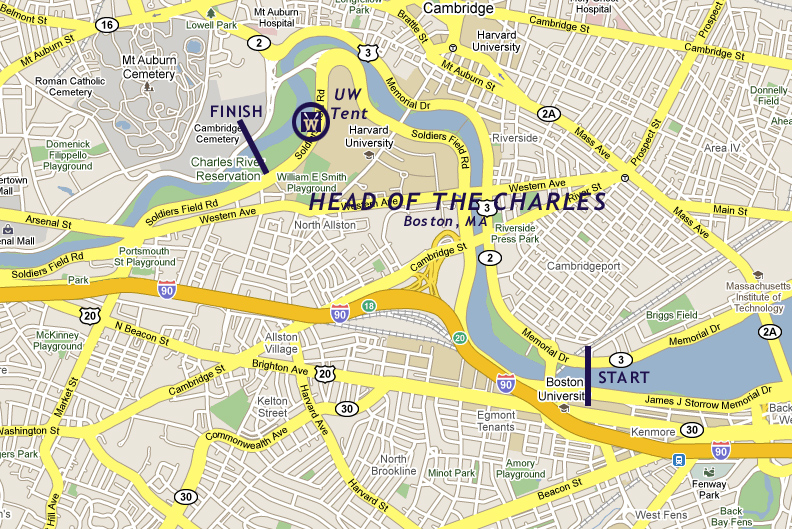 Note: Parking in the area is extremely difficult -- Spectators are advised to take public transportation to the race course. MBTA trains (Red line: Harvard or Central; Green Line: BU Central) and buses are convenient to the course. For those who drive, there are parking lots in Harvard Square, and parking will be permitted on Greenough Boulevard and Birmingham Parkway (the shuttle bus will continuously loop to these areas). Please note, all cars must be moved from Greenough Boulevard and Birmingham Parkway by 6 PM or they will be towed.
Street Closures:
Saturday October 17, 2009 - 10am - 6pm
Memorial Drive will be closed from Western Avenue to Cambridge Boat Club (intersection of Memorial Dr., Greenough Blvd.). JFK street and Anderson Bridge will be OPEN to traffic.
Sunday October 18, 2009 - 10am - 6pm
Memorial Drive will be closed from Western Avenue to Cambridge Boat Club (intersection of Memorial Dr., Greenough Blvd.). JFK street and Anderson Bridge will be CLOSED to traffic.
Getting Around:
The Regatta also provides shuttle buses. Please check the Regatta website (www.hocr.org) for information on the 2009 Shuttle Route and Schedule.
---
Schedule
∑ Sunday 10:00AM Ė Noon: Enjoy the races from the Hospitality Tent or take an enjoyable stroll on the banks for Charles River. Harvard Square within walking distance too.

Sunday Noon Ė 4:00PM: Come and join us on the banks of the Charles as the Sunday afternoon events pass by. Enjoy the company of the Menís and Womenís Rowing Team before they boat up and race in the Championship Eight event. Light snacks and libations will be served.

Sunday at 4:00PM: Watch the Huskies race top university and national team crews in the Menís and Womenís Championship Races
---
Huskycrew will have full coverage of the 2009 Head of the Charles including photos once the team arrives in Boston the week of the 18th. East Coast friends and alums - this is a must see event, see you on the Charles on the 18th!